A tan is attractive no matter what gender is flaunting it. Without the use of correct tanning lotions though, tans can come out looking streaky, orange, and blotchy.
Here we have compiled a list of our favorite tanning lotions that are perfectly suited for men.
Our five options include a variety of types, to satisfy any kind of tanner's needs.
All of them do have something in common though: they are great for your skin. With natural ingredients, your skin's hydration is boosted and thus so is your tan.
Read on for more detailed information about each of our recommendations and find out our best tanning lotion for men.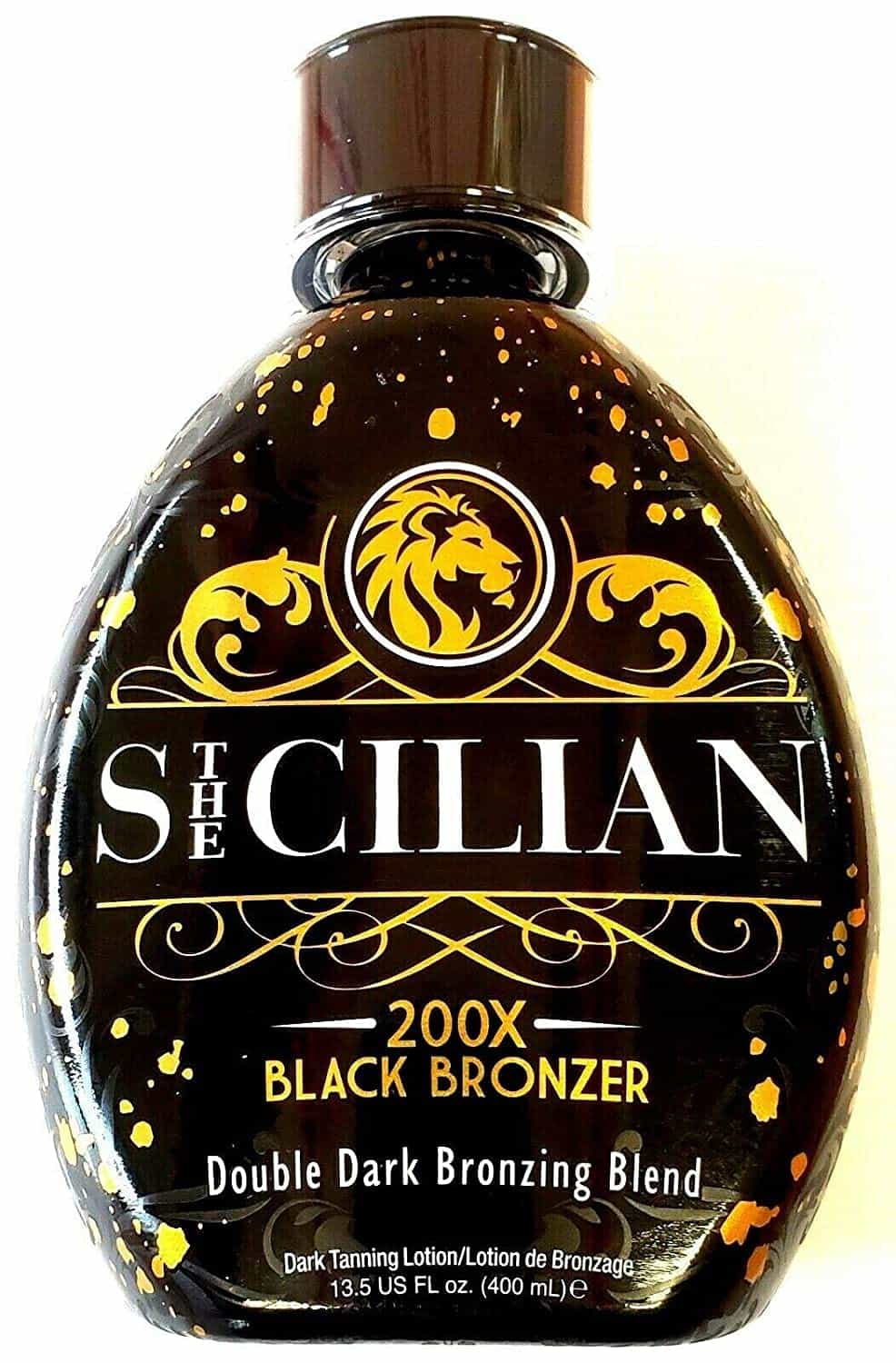 Our top choice for best indoor tanning lotion for men is The Sicilian by Dolce Vita. One of the reasons for it being a favorite is the plethora of great ingredients included in the formula; let's delve into them.
It is rich in DHA as well as melanin boosting tyrosine, ensuring both deep and quick results. The added silicone softens your skin so that your tan can last longer, and coQ10 contributes towards protecting your skin at a molecular level from the damage of free radicals.
Moreover, included acai berry, walnut and macadamia oils contain antioxidants and are also skin softening.
The carrot oil (daucus carota sativa seed oil) and green tea (camellia oleifera leaf extract) are rich in vitamin A and antioxidants that work towards a radiant complexion and anti-aging.
There's also apple extract (Pyrus malus fruit) and caffeine which are also anti-aging, skin softening, and protect from damage caused by the sun's rays.
Cucumis melo fruit extract also helps reduce the appearance of aging whilst also exfoliating the skin and removing dead skin cells from the surface.
The bark extract is another gentle exfoliant that reduces acne, excess oil, wrinkles and fine lines, and hydrates skin at the same time.
The last ingredient worth mentioning is soy amino acids which with hydration, free-radical damage, and aging.
Despite having DHA, this formula has been made with odor blocking properties, so that 'fake tan' smell should not be an issue. Plus, it is scented 'berry fragrance' and this should mask it. However, after using a tanning bed the DHA smell may linger.
For the same reason, it's very important to wash your hands thoroughly after application as it is very easy for your hands to stain and is difficult to remove.
It's a good idea to apply these with a tanning mitt like our own special blackout tanning mitt, that's designed to last twice as long as other mitts. If you're not using a tanning mitt and would rather not stain your hands, then you're in luck because there are at least 5 alternatives – how to apply fake tan without a mitt.
Pros
Lots of great ingredients
Is great for home, beach, or salon use
Has odor blocking properties
Cons
Can still smell like DHA after using a tanning bed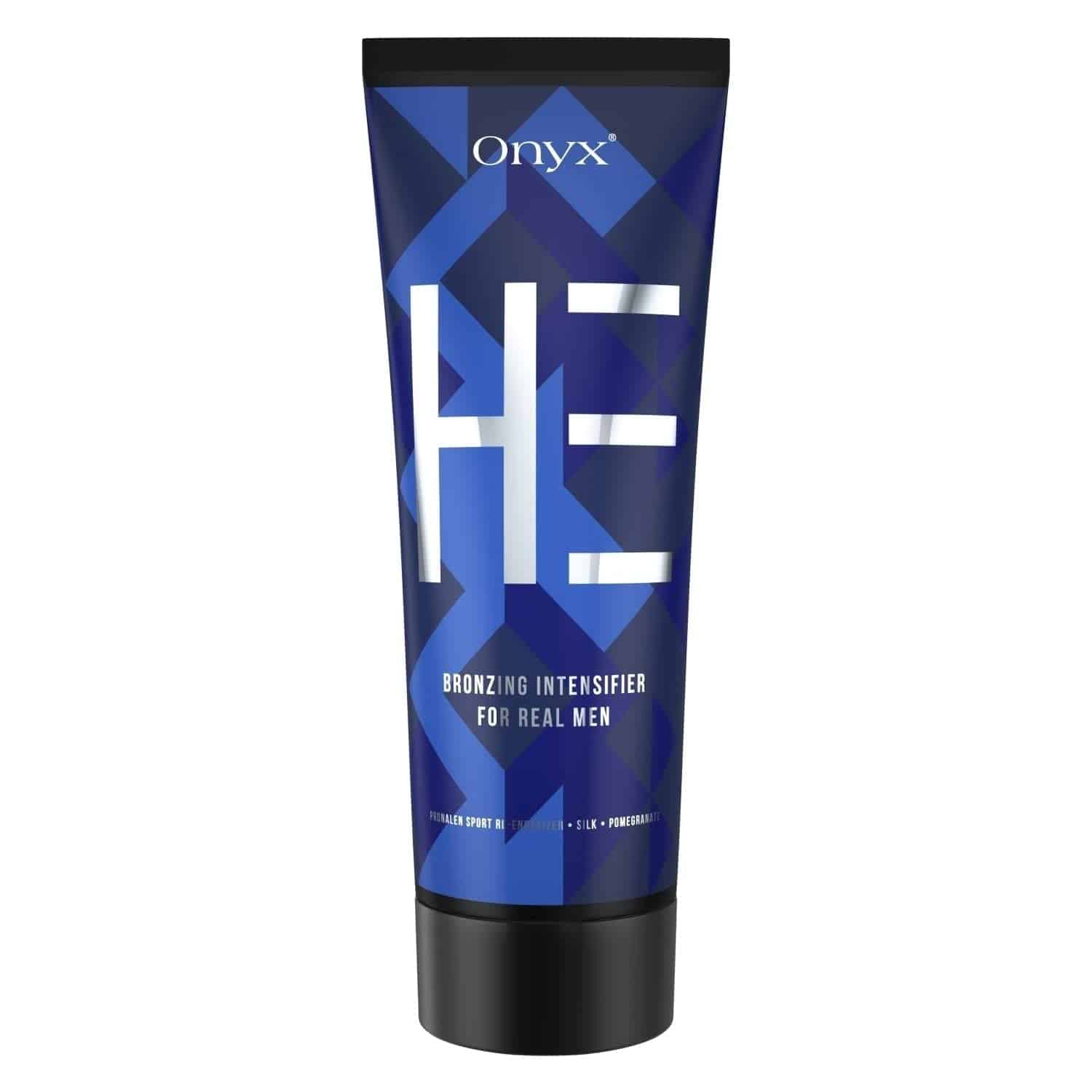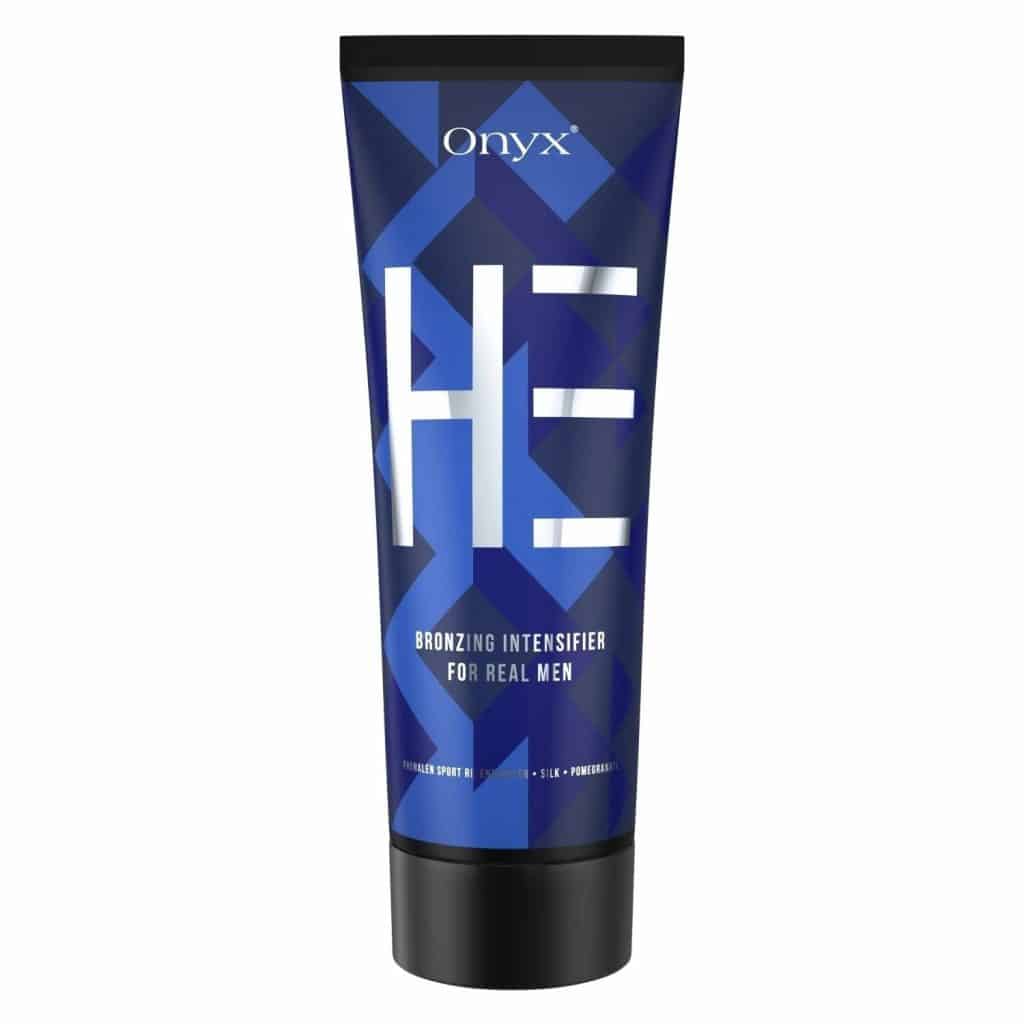 The second men's tanning product is HE by Onyx. The first thing you may notice about it is that it's a bit pricey when you take into consideration the quantity, which is only 6.76 fl. oz.
The majority of the ingredients in this formula consist of natural extracts from fruit or oil that all contribute to skin softness, hydration, and/or protection. Let's delve into it deeper.
Added hydrolyzed silk, an animal-derived byproduct that is made by hydrolyzing the silk protein from silkworm cocoon, promotes elasticity and softness whilst also aiding in retaining moisture.
Moreover, there is sesame oil which has anti-inflammatory and antioxidant properties and contains vitamin E, protecting skin cells from damage.
The pomegranate extract (punica granatum) also has antioxidant properties that help reduce the appearance of lines and wrinkles.
Soybean oil contains vitamin E, antioxidant protection, and strengthens the skin's moisture barrier.
Glycerin is a humectant that allows the skin to retain moisture, relieve dryness, and it is also an emollient which means that it can soften skin too. Added tyrosine helps the body produce melanin, ensuring a golden and bronzed tan, and the DHA ensures rich bronzing.
Sesame seed oil also contains vitamin E, and so it helps protect skin cells from environmental damage, whilst also having antioxidant and anti-inflammatory properties that contribute to a whole lot more.
Calophyllum Inophyllum seed oil helps make collagen, has wound healing abilities and reduces the appearance of scars or things like stretch marks. Glyceryl Stearate also maintains moisture, the peach and melon extract provide hydration, contain vitamins A and C and thus are antioxidants as well.
Lastly, the Enteromorpha Compressa Extract is rich in nutrients and balances electrolytes and hydration overall.
It smells like a combination of patchouli, mint, grapefruit, and cinnamon so it smells good without being over the top.
The muscle bronzing complex that this one features is meant to emphasize your muscles but this can depend on how dense your muscles actually are.
Pros
Great ingredients that have lots of benefits
Muscle bronzing complex
Cons
A bit pricey, especially for the quantity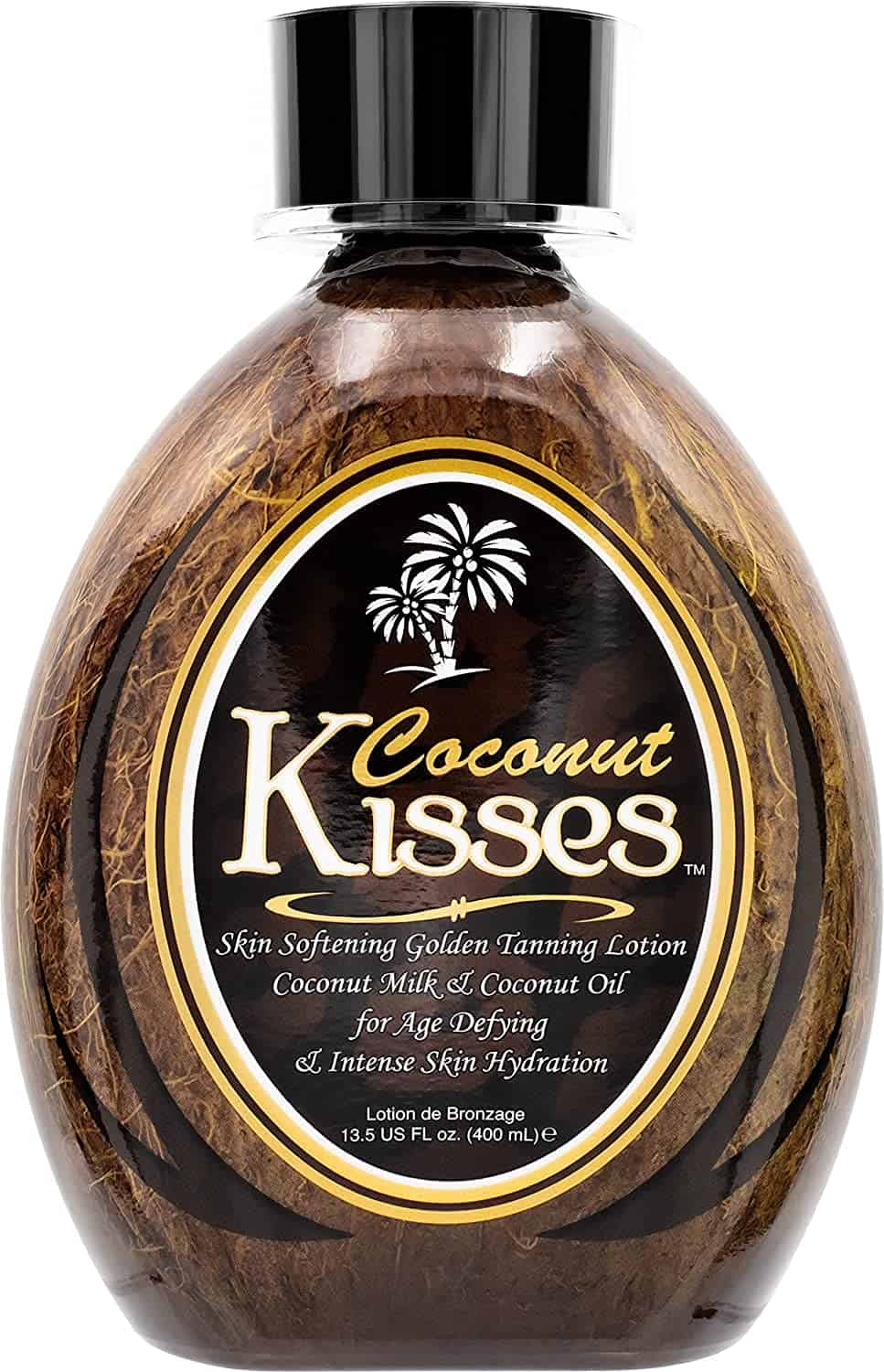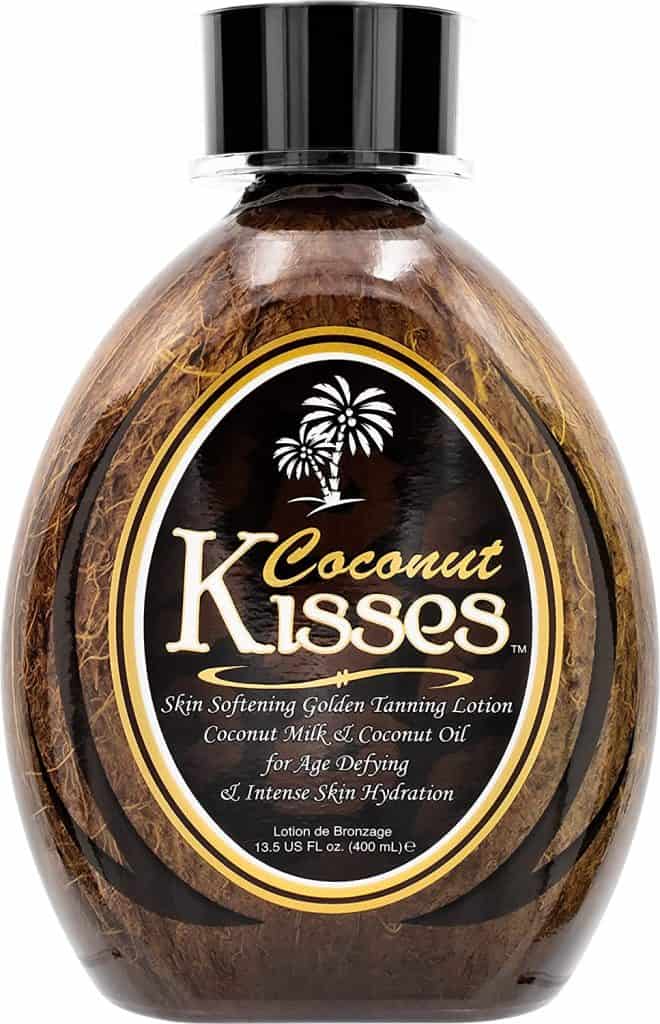 Our next tan lotion for men is by Ed Hardy, Coconut Kisses. It is cruelty-free, has a lot of hydrating ingredients, and has added tattoo protector, making this one another great choice.
Some of the ingredients featured in this formula include Coconut milk, coconut oil, safflower seed oil, cocoa seed butter, banana fruit extract, aloe vera, vitamins C and E, and moisturizing glycerin all work towards helping your skin remain hydrated.
The consistency appears thick to start with – until you start applying it. Then, it becomes lightweight and absorbs quickly into your skin, leaving no residue behind.
It has a quad tyrosine blend and MelanoBronze which stimulate and increase the production of melanin, accelerating the tanning process. Thus, less exposure to rays is needed to achieve a perfect tan and results can last longer.
It does not have any bronzer in it, meaning there is no risk of staining or any orange tint in your tan.
Pros
No staining or orange
Lightweight and absorbs quickly
Tattoo protector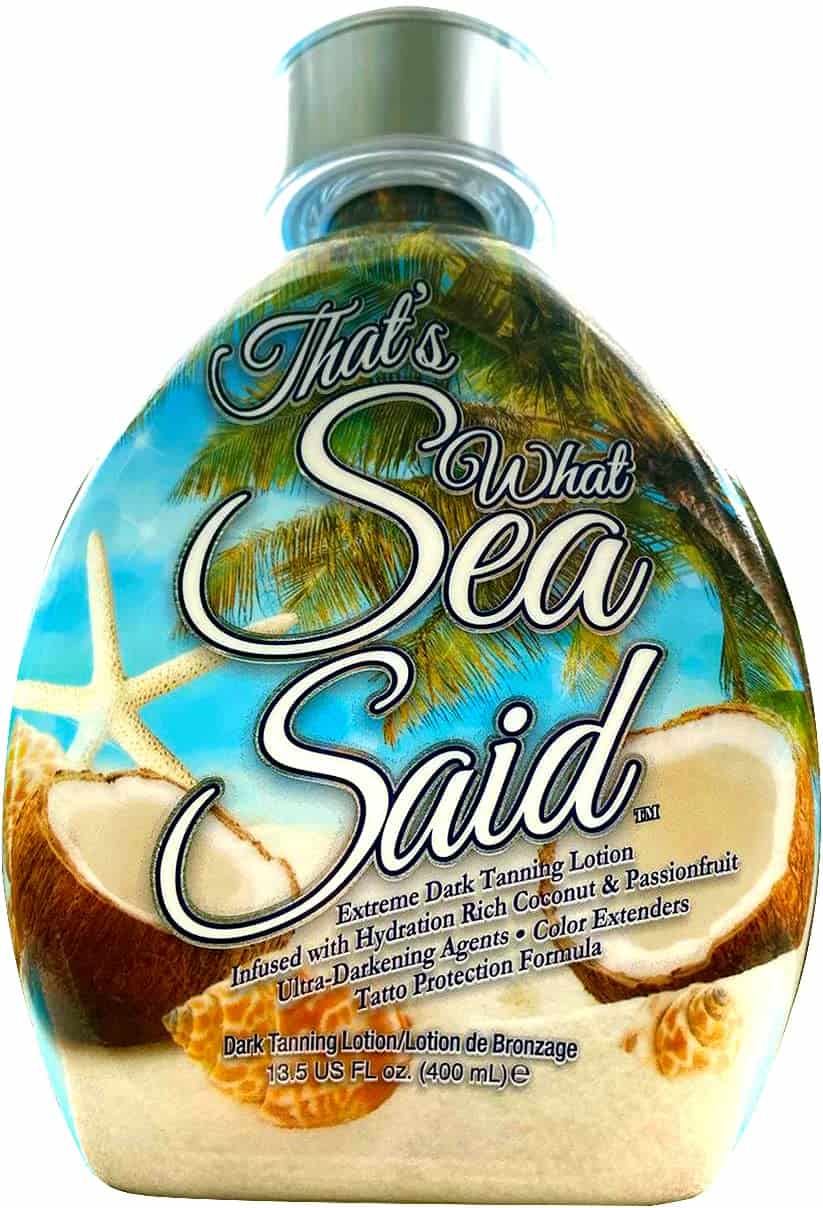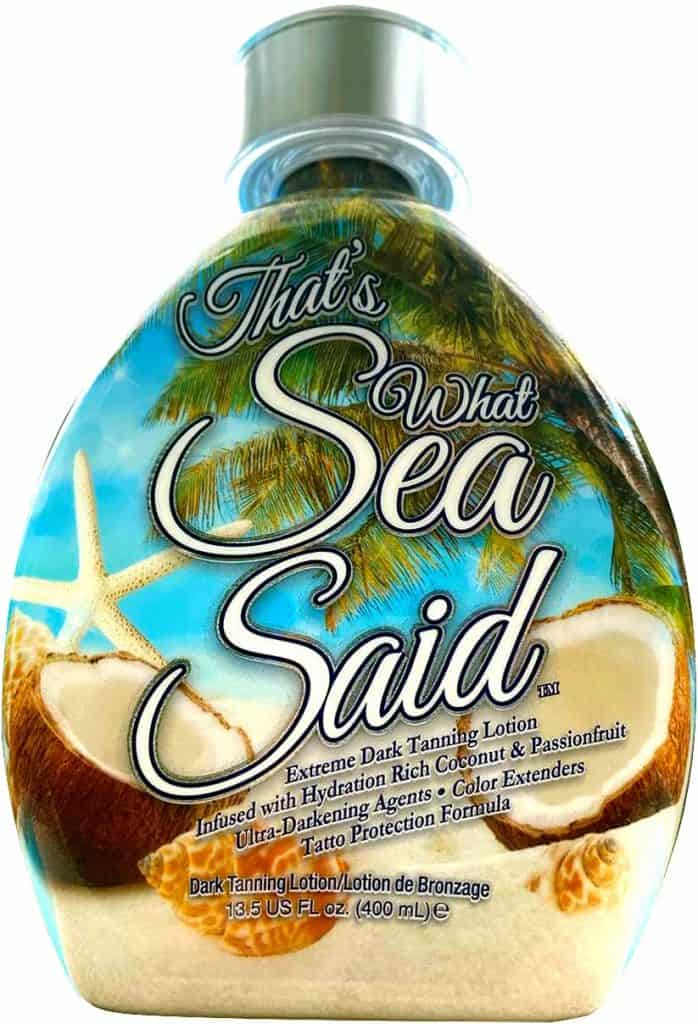 That's What Sea Said by Dark Tans Exclusive is our next best self tanner for men because of its inclusion of natural ingredients.
Plus, the special blend of tyrosine, an amino acid, stimulates melanin production making it easier and quicker to get a more natural tan with less UV exposure.
The scent is a fruit one that is pleasant to most but could be irritating for some.
This one also does not feature any bronzer and thus ensures an even and gradual tan without streaks or orange undertones.
There's also coconut and passion fruit extract that add natural moisture to your skin, helping you achieve the best tan possible by maintaining hydrated and smooth skin. Moreover, the included seaweed helps tighten and tone your skin whilst also protecting you from free radical damage with its antioxidant properties.
Moreover, added hibiscus boosts elasticity in the skin which in turn prevents wrinkles, making it an anti-aging agent and protector from UV rays to an extent – this does not mean that it counts as having SPF protection.
Pros
No bronzer
Plenty of natural, nourishing ingredients
Smells nice
Boosts melanin production
Cons
Smells too strong to some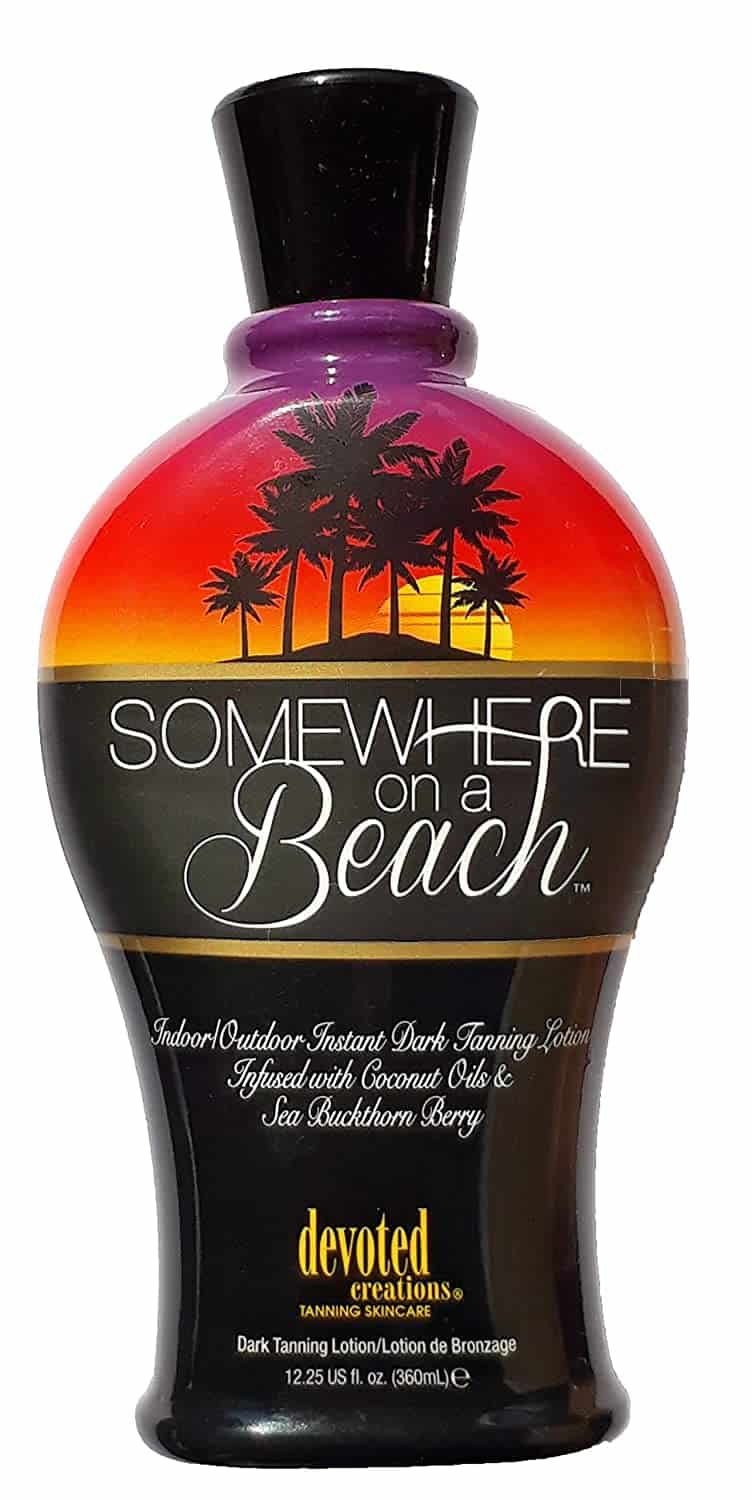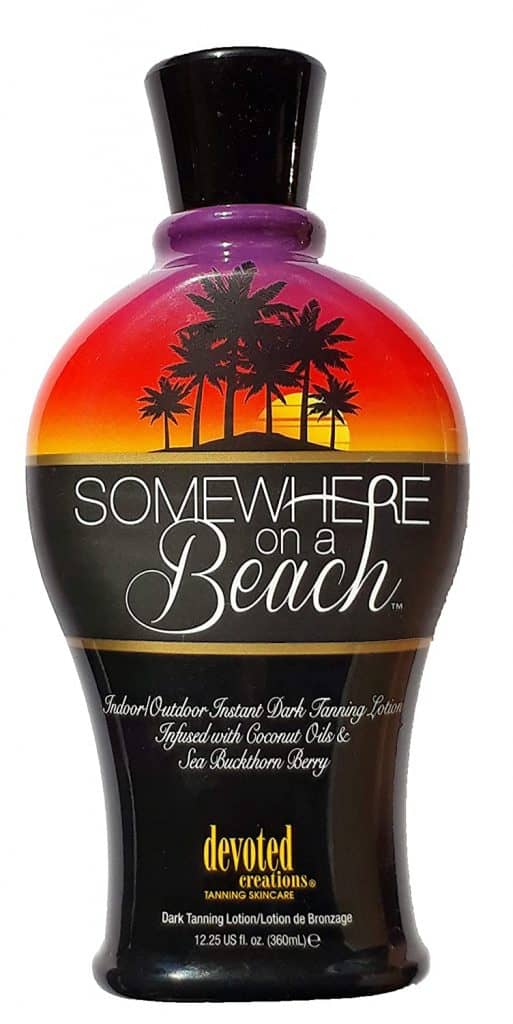 Our final and fifth best tanning lotion for guys is Somewhere on a Beach by Devoted Creations and it truly does smell like a tropical beach.
Naturally, if you happen to really like the smell of coconut, this one is definitely an excellent choice. It's also a very versatile option, as it can be used for both indoor and outdoor tanning.
In a tanning bed, you should opt for a level 3 one for a mere 15-20 minutes.
No DHA or bronzer included means no streaks, stains, or orange color. The formula's ingredients include coconut, walnut oil, aloe leaf juice, and green tea extract which all work toward hydrating and softening the skin.
This formula utilized matrixyl synthe 6, a powerful anti-aging peptide that regulates cell activity and collagen tissue, reducing wrinkles and fine lines.
It goes on smoothly, absorbs quickly, and leaves no residue of any kind behind, keeping your skin moisturized and hydrated.
Pros
Infused with natural and hydrating ingredients
Includes advanced matrixyl for anti-aging
Can be used for both indoor and outdoor tanning
Cons
Not everyone likes the scent
Frequently Asked Questions
Should Guys Use Tanning Lotion?
Tanning lotion should not be seen as something exclusively female; flaunting a tan looks great on everyone, no matter their gender. Therefore, men should absolutely make use of tanning lotion so that they can maintain the health of their skin whilst achieving the desired bronzed tan.
Do Tanning Lotions Really Work?
Tanning lotions that are without DHA/bronzers work towards encouraging melanin production while also keeping the skin hydrated, and lotions that do have bronzers help a tan appear sooner.
How Can Men Get a Good Tan?
A good tan can be achieved by taking the proper steps beforehand and after. The same tips that are used for making spray tan last longer can be applied to maintain all good tans.
Can You Still Tan with Hairy Legs?
Yes, tanning is still possible with body hair. No amount of hair will counteract sun exposure and thus a tan.
Also remember to check out our article – why do bodybuilders tan so much?