It won't be long before summer is officially here, and what better way to commemorate that by getting yourself ready to glow bronze with a tan accelerator.
That's why we've compiled a list of the 8 best tan intensifiers on the market for 2023. The large selection ensures that you can find the right one for you with the help of this tan accelerator review.
Tan accelerators work by speeding up your skin's natural melanin production for the best tan results after sun exposure.
They should never be used as sun protectant because they never really have any SPF protection so wearing sunscreen is still a must, as always.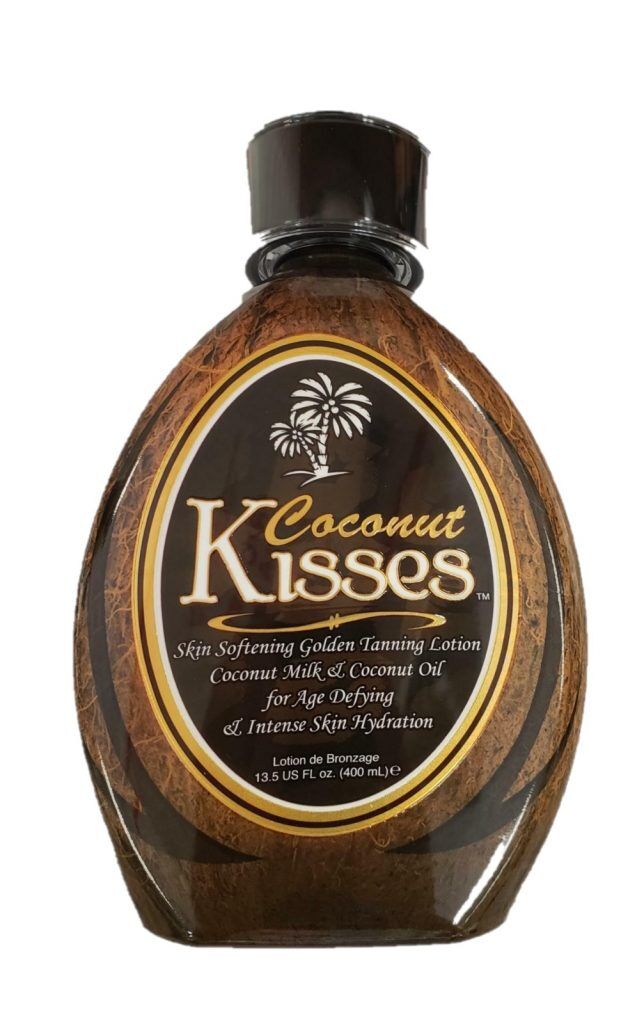 Our number #1 and top recommendation is the Ed Hardy Coconut Kisses, which sounds like a dream because it is. This cruelty-free product contains coconut milk, coconut oil, safflower seed oil, cocoa seed butter, banana fruit extract, aloe vera, vitamin E, vitamin C, and moisturizing glycerin.
These are great quality ingredients that provide a lot of hydration. Although the consistency is thick, it feels light when applied and is absorbed quickly. More importantly, it's not greasy or sticky in any way and leaves your skin feeling smooth and soft, and can even reduce the appearance of cellulite, promoting firmness.
It does not contain any bronzers so there is no chance for your skin to turn orange and no risk of getting too dark; just a natural golden, glowing tan.
The fragrance is, of course, coconut with a very faint scent of vanilla. Even for those who are sensitive to smells, it is not overpowering at all so doesn't pose an issue, it's just the right amount and does last.
This tan accelerator is especially good if you have any tattoos. It has tattoo color fade protector that not only preserves your tattoo but also enhances it.
Like most tan accelerators, this one is intended for tanning bed use and does not contain any SPF so, for outdoor tanning you will burn without any protection.
The quad tyrosine blend and MelanoBronze stimulate and increase the production and formation of melanin, accelerating the tanning process. Included melanin synthesizer provides darker and longer lasting results.
Pros
Hydrating ingredients
No bronzer, no orange
Cruelty-free
Not greasy or sticky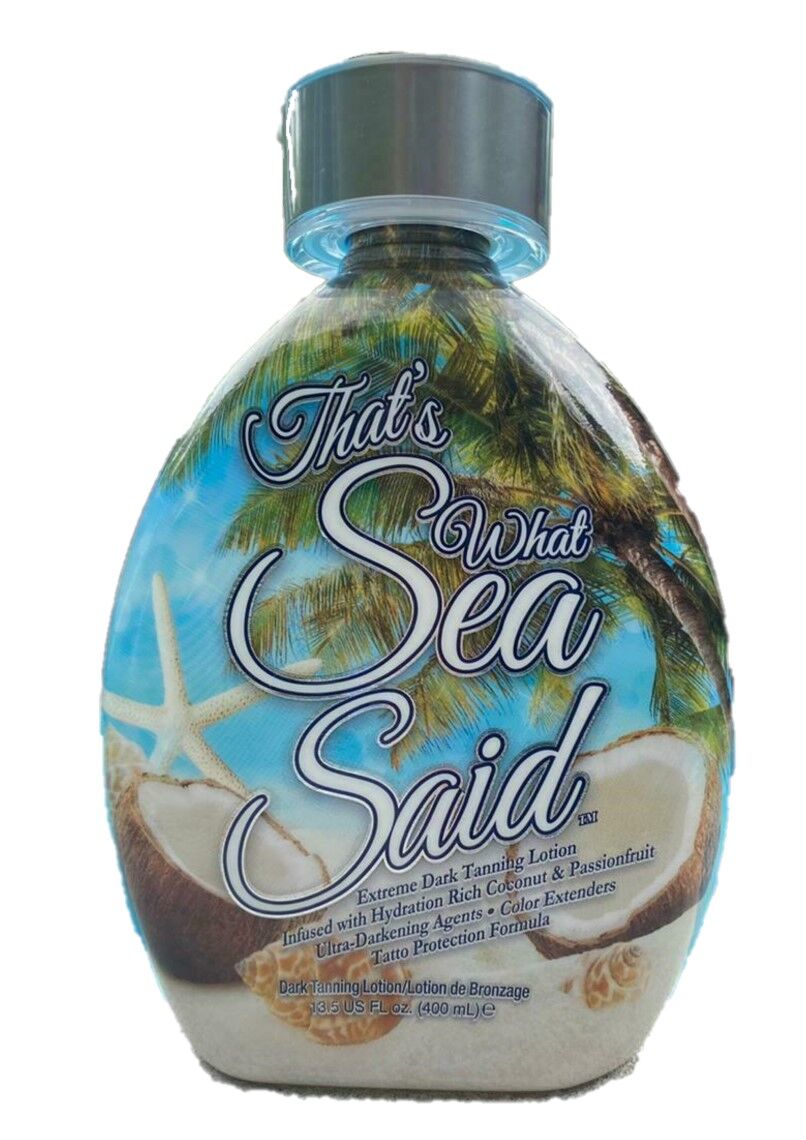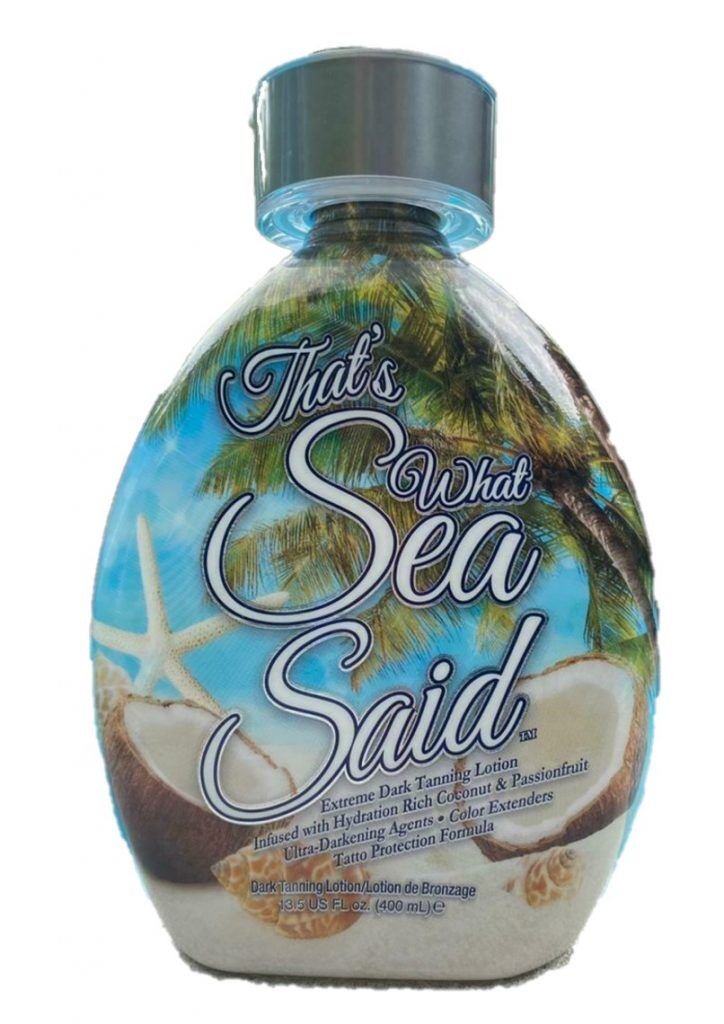 One of the best sunbed tan accelerators is the That's What Sea Said tanning lotion that not only accelerates your tan but also moisturizes and protects your skin from the aging process thanks to its powerful and natural ingredients.
The coconut and passion fruit extract in it is what adds natural moisture that soaks through every cell in your skin, aiding you in achieving a tan in a safe way, without compromising your smooth skin.
The included seaweed tightens and tones your skin whilst preventing damage from free radicals with its antioxidant properties.
Hibiscus improves the elasticity of your skin, fighting wrinkles and aiding in the fight against the aging process brought about by exposure to UV rays.
The special blend of Tyrosine, a type of amino acid, stimulates melanin production making it easier to get a darker and more natural tan quicker.
The scent is a lovely fruity one, although not everyone likes an accelerating tanning lotion that has a fragrance. It's important to try out a patch test on your skin a while before you intend to use it, not just for the smell but also to check for a reaction from your skin.
Pros
No bronzers
Natural ingredients
Great smell
Cons
The scent may be too strong for some people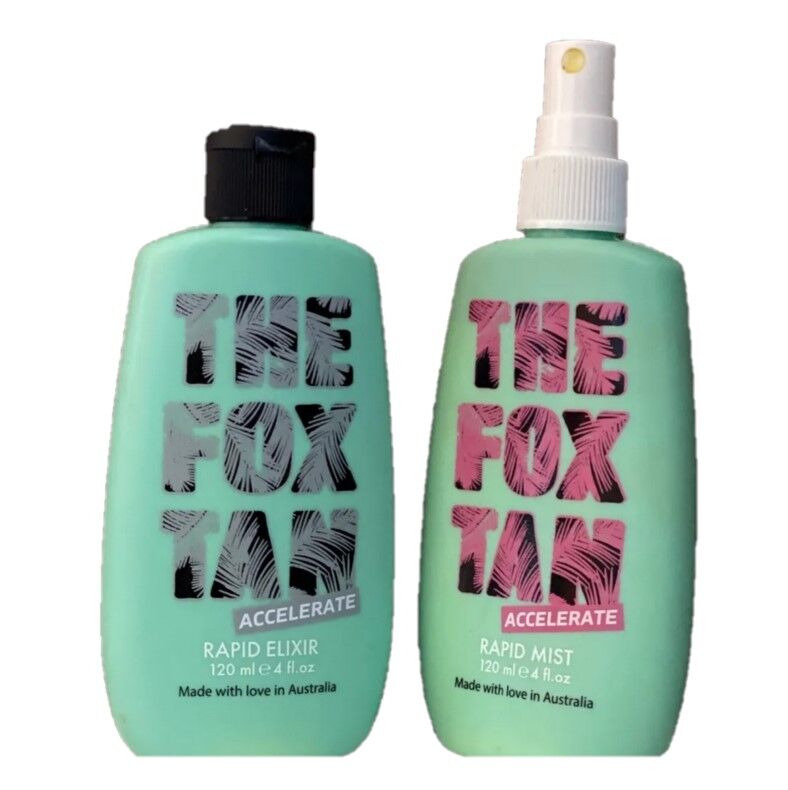 The Fox Tan Originals pack comes with a Rapid Elixir and a Rapid Mist.
The elixir is a lotion to be used as a daily moisturizer that actively boosts melanin production starting from a week before your tanning session whereas the tanning mist spray should be put on whenever you are out in the sun.
With an understanding of how tanning works, this is the best kind of combination to ensure that you maintain golden, glowing skin at all times.
The secret FoxComplex 'ingredient' is an active amino acid that stimulates rapid melanin expression and production. This way, even when you're not in the sun you're still building a tan.
Other nourishing, revitalizing, and skin-enhancing ingredients include watermelon seed oil, almond oil, aloe vera, cocoa butter, jojoba, natural pearlescent minerals, and olive oil, all of which benefit the health of your skin cells and dramatically increase the production of melanin so that you can achieve a darker tan in less time.
What's really great about these ones is that they come in carry-on friendly sized bottles, so you can effortlessly take them anywhere with you whether it's on or before vacation, to the beach, the mountains, inside or outside.
They are made in Australia, vegan friendly, and cruelty free and are quick drying. UV protection should still be worn at all times as these products do not provide any.
Pros
Carry-on sizes
Elixir lotion and mist spray
Vegan
Quick drying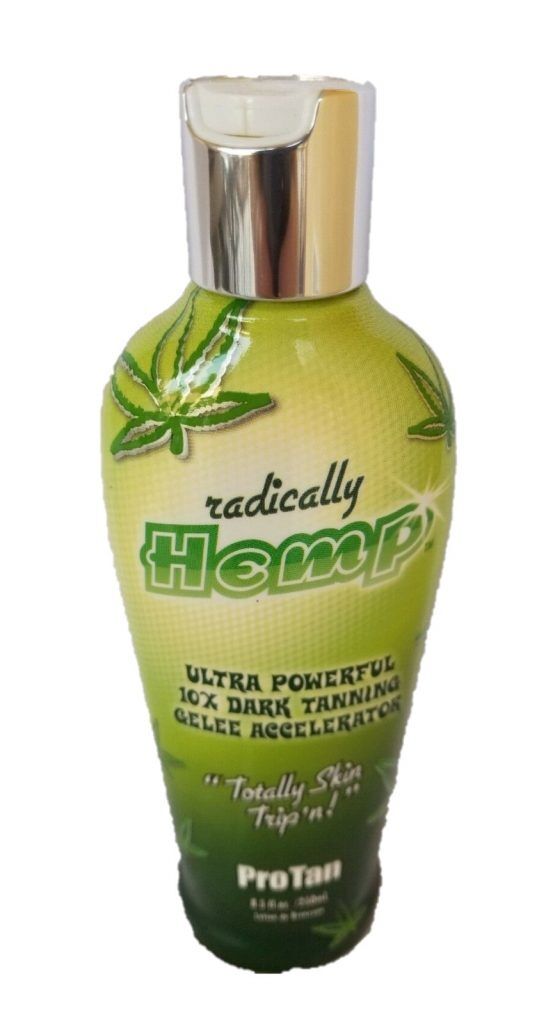 The Pro Tan Radically Hemp contains no bronzer, smells like coconut and almond, and has a gel-like consistency that absorbs fast leaving behind no greasy or oily residue once absorbed.
It is very hydrating, but it is important to do a patch test considering that it does contain hemp seed oil as it can cause tingling or a rash on sensitive skin.
There are a ton of benefits when it comes to using Cannabis Sativa in tan accelerators as it results in a smoother application and has antioxidant and anti-inflammatory properties, thus preventing acne breakouts.
The antioxidant quality helps prevent wrinkles and fine lines and anti-inflammatory properties help normalize the effects that come with tanning and ward off irritation.
Added coconut oil and olive oil are both great for the skin in general but especially for hydration and they play interesting roles when it comes to tanning.
Acetyl tyrosinase is a common ingredient found in tan accelerators as it is an amino acid that is found in the body and helps produce melanin.
In the ingredients, you can also find stearyl Alcohol, PEG 20 methyl glucose sesquistearate, and ceteareth 20 which act as emollients, leaving the skin smooth and soft as they form a protective layer over the surface to keep moisture in.
Aloe vera and butylene glycol are soothing and hydrating to the skin, boost healing and skin cell production, are anti-aging thanks to the vitamin C and E included, as well as reduce bacteria i.e. infections and acne.
Cocoa butter is also soothing to the skin and improves blood flow.
Vitamin A interrupts the process that breaks down collagen, preventing some sun damage and is an antioxidant while vitamin E protects cell damage throughout your body and provides moisture.
Bamboo extract contains methanol which has incredible healing properties that also cleanses the skin and is a powerful antioxidant.
Pros
Lots of nourishing ingredients
No bronzer
Smells lovely
Gel-like consistency which dries quickly
Cons
Not all types of skin react well to hemp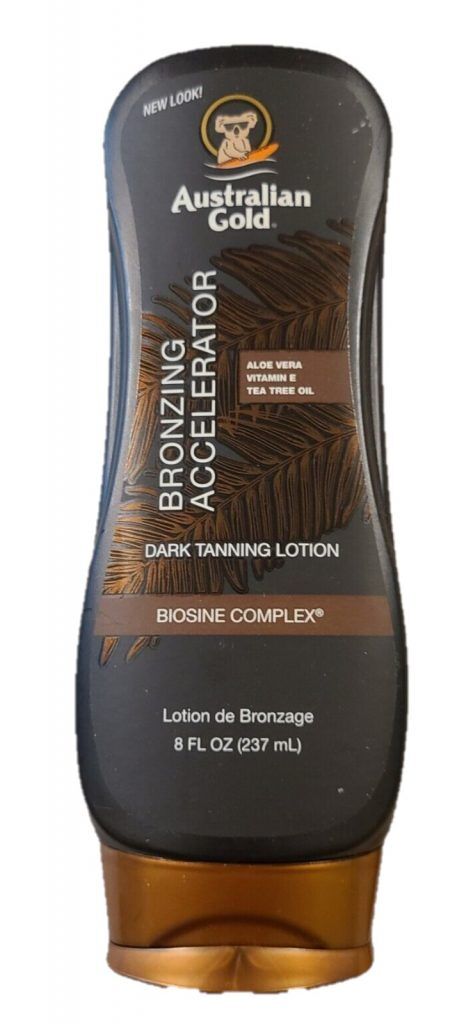 The Australian Gold dark tanning accelerator lotion has a fruity fragrance of coconut, orange, and vanilla and leaves your skin very moisturized without any oily residue remaining. Application is super easy since it isn't sticky and absorbs really quickly.
Thanks to the Kakadu Plum extract, it has a high content of vitamins C and E, folic acid, and carotenoids, which work towards reversing the effects of free radicals and reducing aging symptoms.
The 'Biosine complex' is a blend of olive oil, tea tree oil, and panthenol that allow for the maximum UV stimulated melanin production.
Tea Tree oil is a powerful antioxidant that also cleanses your skin reducing inflammation, acne, and dark spots, whilst moisturizing your skin all at the same time.
Olive oil is great for skin protection and keeping it hydrated whilst boosting damage repair. It also leaves your skin with a stronger tonicity and is an antioxidant ally, aiding to combat aging.
Panthenol is another skin protectant with anti-inflammatory properties that helps with skin elasticity, hydration, and smoothness.
Considering that Australian Gold don't use any Tyrosine, Tyrosine derivatives, nor Unipertan, they only work as a tan accelerator in the sense that dry skin deflects up to 40% of UV light in a tanning bed but the lotion keeps your skin moisturized.
It does contain bronzer, so it may stain fabric and only a thin layer should be used – even more so for paler skin. It may be more challenging to get the right shade, so try experimenting with how long you leave it on between showering.
For most, waiting about an hour to shower is long enough but this can vary based on your original skin tone. Moreover, make sure to wait a couple of minutes before getting dressed to avoid streaks in your tan.
If you incorporate all the same steps that you would before applying a fake tan, you can rest assured to always have good results.
Once the color starts to fade away, it goes very slowly so doesn't look patchy.
It is recommended to wash your hands after applying this tanning lotion and to be careful with the face, especially on sensitive skin. Always give it plenty of time before you shower, at least an hour; the color develops after about 6-8 hours.
Pros
Lovely fragrance
Boosting ingredients
Not oily
Very hydrating
Cons
Included bronzer not for everyone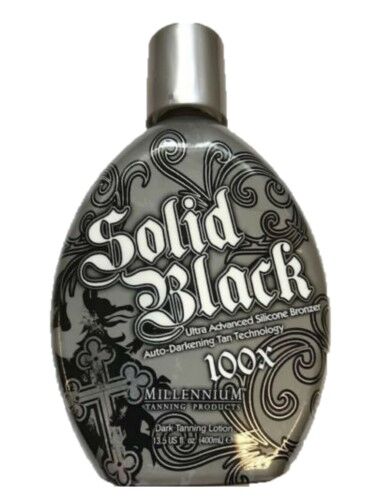 The Solid Black lotion by Millennium Tanning Products contains L-tyrosine, guaranteeing a healthy glow within an hour after usage. The included silicone ensures that the lotion glides on as smooth as possible and the added essential oils fruit extracts are very nourishing and hydrating for the skin.
Such infused oils include walnut seed, pecan seed, sunflower seed, carrot seed, and camellia oleifera leaf extract plus the added vitamins and nutrients from banana, apple, and melon fruit extracts.
Walnut oil is great at fighting wrinkles, infections, psoriasis, and is an antioxidant, while pecan oil is rich in vitamins E and A which contribute a lot to your overall skin health, sunflower seed oil also contains vitamin E and is an antioxidant that also aids your skin with keeping its youth.
Carrot seed oil is another antioxidant that also has anti-inflammatory properties as well as antibacterial properties that fight against acne, and camellia oleifera leaf extract is amazing for dry skin because it prevents water loss thanks to its occlusive properties and the linoleic acid rejuvenates the skin.
All of the mentioned ingredients work towards keeping your skin moisturized and hydrated.
The flowery Orchid Bush scent is not too strong, but just enough for it to pleasantly linger, and the non-sticky/non-greasy formulation makes using it a breeze.
It is free from methyl nicotinate, so there's no need to worry about a tingling effect, and it works great even on pale skin!
There is no SPF or sunscreen protection, so it's important to compensate for this if tanning outdoors – there are other tanning lotions out there that are better suited for the outdoors though, which you may want to consider if you're not a tanning bed user.
It's best to use this tanning lotion for a level 3 tanning bed for about 15 minutes. For tanning bed beginners who don't understand the jargon, you can learn more here – how to get the best tan in a tanning bed.
Pros
Works well for pale skin
Very hydrating
Great ingredients
Cons
Best for indoor tanning only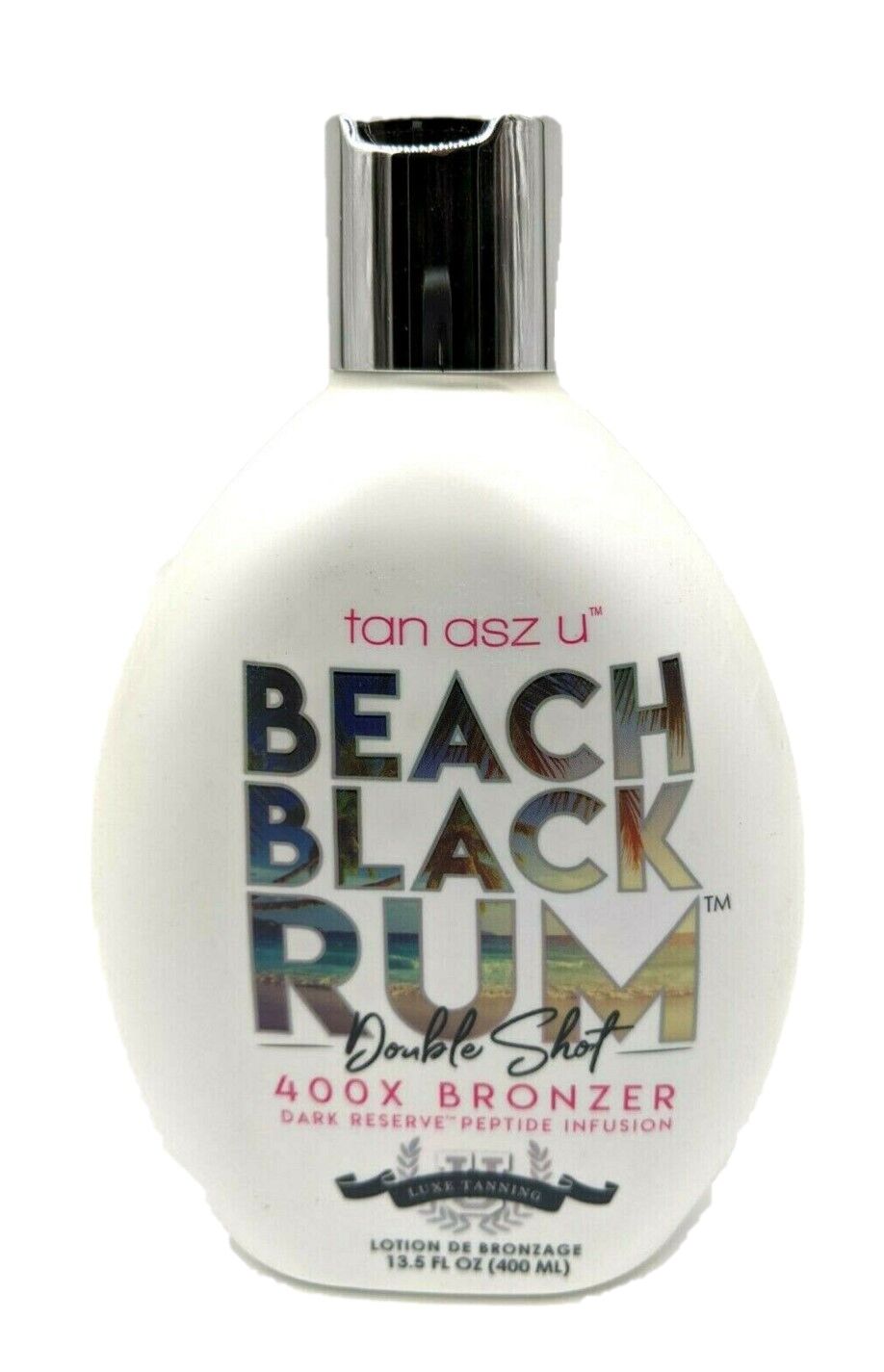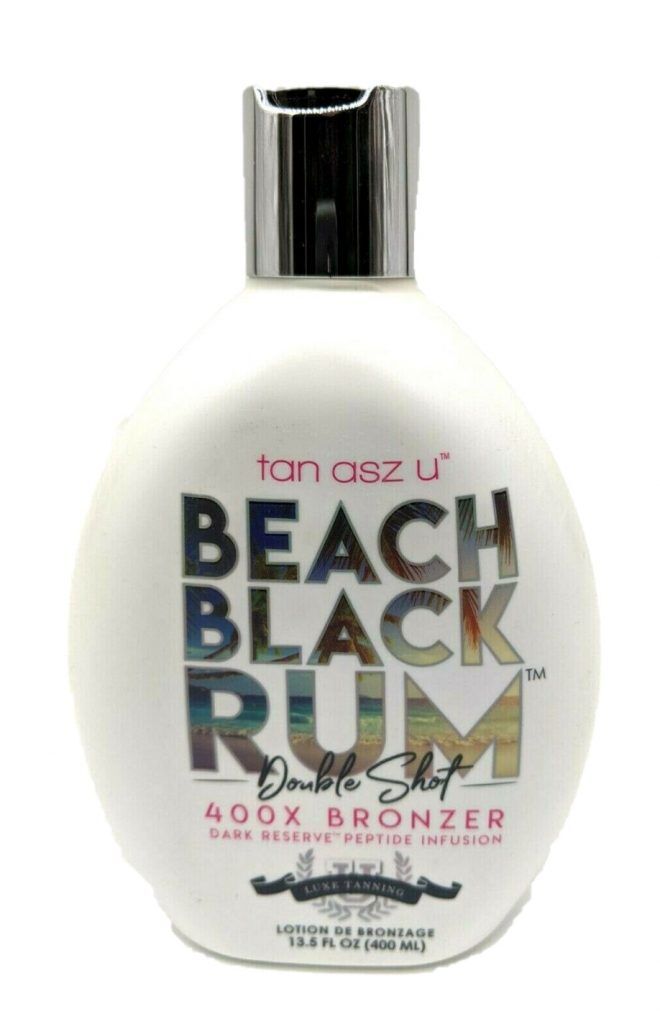 The Beach Black Rum by Tan Asz U is DHA free, contains organic algae and black charcoal, and has a coconut water base that all result in superb indoor tanning with no tingle effect.
It's also vegan, gluten free, paraben free, cruelty free, and phthalate free.
Lots of the ingredients in this indoor tan accelerator have plenty of benefits for skin. For instance, included coconut oil is an antioxidant that protects, soothes, and hydrates, Agave Tequilana leaf extract reduces wrinkles and is antiseptic meaning that it has healing properties.
Moreover, added charcoal powder is deeply cleansing to pores, soothing for acne, relieves skin impurities like acne, and tightens skin, and Spirulina Platensis extract is also a moisturizing, antiwrinkle, antiaging and antiacne agent.
Sunflower seed oil is highly non-comedogenic and absorbent, thus leaves your pores unclogged, and is an antioxidant with vitamin E that protects your skin from aging too. Caffeine, another antioxidant, protects the skin from free radicals.
In addition, panthenol is another skin protectant with anti-inflammatory properties that improve the skin's elasticity, hydration, and softness and hydrolyzed citrus aurantium dulcis fruit extract has antioxidant, anti-inflammatory, and anti-microbial properties. Antimicrobial products kill or slow the spread of microorganisms like bacteria, viruses, protozoans, and fungi.
The last ingredient that I'd like to touch on is the Bupleurum falcatum root extract which is a herbal supplement created from the root of the plant Bupleurum chinense and has been used in traditional Chinese medicine for centuries, originally for its healing properties but it is also used in skincare for its skin-soothing and antioxidant properties.
Pros
Doesn't tingle
Great selection of ingredients included
Vegan, cruelty-free, etc.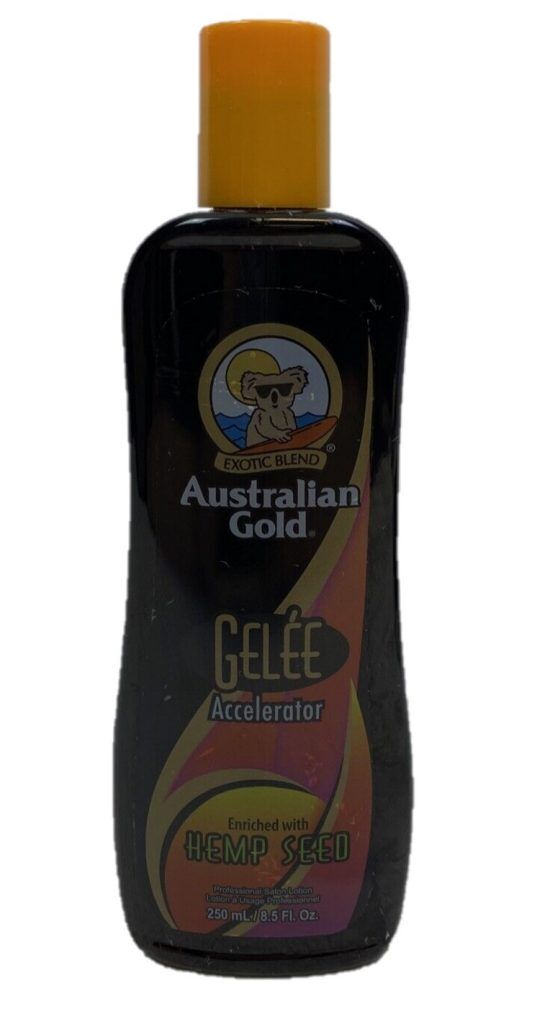 Our last best tan accelerator is another by Australian Gold, this time the Gelee accelerator which features hemp seed and a blend of natural ingredients that are sourced from herbs native to Australia.
The texture is that of a gel and so it is highly absorbent and doesn't leave any sort of residue behind. What is particularly great about this one is that even though it is a gel it does not matt down body hair and truly feels weightless.
This indoor and outdoor tanning accelerator has been formulated with vitamin E and oils that work towards keeping your skin hydrated and fighting free radicals, keeping your skin protected from harm to an extent.
Hemp seed oil provides a balance of Omega 3 and 6 essential fatty acids that contribute to a moisturized and youthful glow.
Added olive oil is a great simulator to sebum and tea tree oil is rich in antioxidants and are both very nourishing to the skin.
This one can be used for both indoor and outdoor tanning and it has a sweet Coco Dreams fragrance that can be blissful to some but irritating to another.
Pros
Hemp seed oil
Gel consistency
Lightweight and highly absorbent
Beneficial ingredients
Cons
The scent isn't for everybody
Frequently Asked Questions
Do Tanning Accelerators Really Work?
Yes, tan accelerators speed up the sin's natural process with the use of ingredients that encourage your skin cells to produce melanin.
What Tan Accelerator is Best?
Our top pick is the Ed Hardy Coconut Kisses Golden Tanning Lotion because it's cruelty-free, contains no bronzer so that there's no chance of any orange color coming through, and contains very hydrating ingredients that leave behind no greasy or sticky residue after use.
What is The Best Tan Accelerator for Tanning Outdoors?
From our list, the Australian Gold Gelee Dark Tanning Accelerator is great for outdoor tanning and comes in a lightweight and highly absorbent gel consistency, with a ton of beneficial ingredients including hemp seed oil.
Should I Use a Bronzer or Accelerator?
The answer for this usually depends on your skin tone and what shade of tan you are trying to achieve. Tanning accelerators that contain bronzers are more likely to come out looking orange, especially when applied on pale skin, and how long you wear the accelerator before showering can also influence what shade it ends up.
How Long Should You Leave Tan Accelerator On?
As previously mentioned, how long you leave a tan accelerator on can influence what shade the tan results in. As a general rule, it's good to wait about an hour before showering and the color should develop about 6-8 hours later.
Despite this, it is recommended to experiment because not every accelerator is the same and can react differently on different types of skin.