If you have been on the market for a self-tanner you might've come across Jergens Natural Glow but is it all that's it's hyped up to be?
Here we break down everything about this self-tanner, so you know exactly if it's the right choice for you.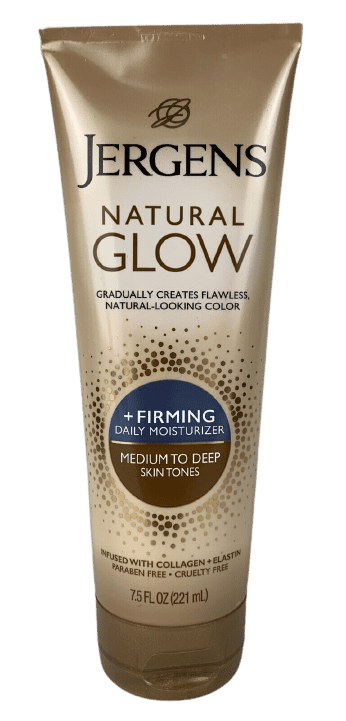 The first thing I want to talk about Jergens Natural Glow is that it's really easy to use and apply. The tanner goes on smoothly and dries quite quickly. This means if you are wanting to get into bed or get dressed soon after applying you can because of how quickly it dries.
If you look through the ingredients used you may notice that there are plenty of hydrating ingredients included. As you can see from the bottle moisturizer is included in the mixture. And you can notice the difference when compared with some other self-tanners. In the sense that this one really leaves my skin feeling subtle and soft.
The next thing I want to talk about with this self-tanner is the smell. This one doesn't have a stronger chemical smell which is sometimes the case for other self-tanners on the market. The fragrance is subtle and isn't overpowering. This is particularly important to me as I am quite sensitive to stronger smells.
The most important factor with this self-tanner from Jergens is the tanning effect it provides for the skin, and you won't disappointed with the results here. It gives a lovely looking golden glow. I've not had any problems with this one causing streaks, or any orange effect either. Of course, using this tanner gives you that golden tan without any concern of exposing yourself to UV rays which is always appreciated.
You might have noticed that Jergens Natural Glow has received countless high ratings from others as well. It's easily rated as one of the best self-tanners out there and we can see why.
When compared with other self-tanners on the market Jergens price is quite affordable and would fall into the budget category. Even though it's quite cheap and affordable the quality it surprisingly good and it's much better than you would expect for such an affordable product. From a value perspective this is easily one of the best self-tanners you will get.
One thing that should be noted is that the tanning effect is more subtle and can be used to build up over a period of days and applications. If you are wanting a darker and more intense tan this is probably not the best choice for you. Though if you are wanting a more subtle tan that can build up to a medium tone this this is an ideal choice for you.
Overall, it's very easy to recommend the Jergens Natural Glow. I highly recommend it to anyone looking for a natural looking tan that is very easy to apply. Also, thanks to quality ingredients it includes and an immense moisturizing effect along with being very affordable. If you are struggling to get a natural looking tan, give Jergens Natural Glow a try, you won't be disappointed.
Pros
Great value and affordable
Great moisturizing effect
Easy to apply
No strong smell
Cons
Not the best if you want a darker tan
Important Questions about Jergens Natural Glow
How Long Does It Take to See Results from Jergens Natural Glow?
You can expect to see very subtle results after 1 application, but it will become more noticeable after 2-3 applications.
How Long Does Jergens Natural Glow Last For?
It typically lasts around 5-7 days as is quite typical with self-tanners. If you shower or exfoliate more often this will make the tan fade more quickly.
Does Jergens Natural Glow Come Off in the Shower?
It shouldn't come off in the shower as long as you are not too rubbing your skin or exfoliating when showering.
Does Jergens Natural Glow Rub Off on Sheets?
As long as you have allowed some time for it to dry it should not rub off on the sheets as easily. We recommend putting a towel below where you are sleeping to prevent it rubbing on where you are laying as this is the place it is most likely to happen.
How Long Should I Let Jergens Natural Glow Dry?
If you are wanting to get dressed we recommend waiting for at least 10 minutes before. If you are wanting to get into bed then waiting for at least 15 minutes is recommended. If you are wanting to dry quicker check our article here – How to Dry Fake Tan Quickly.